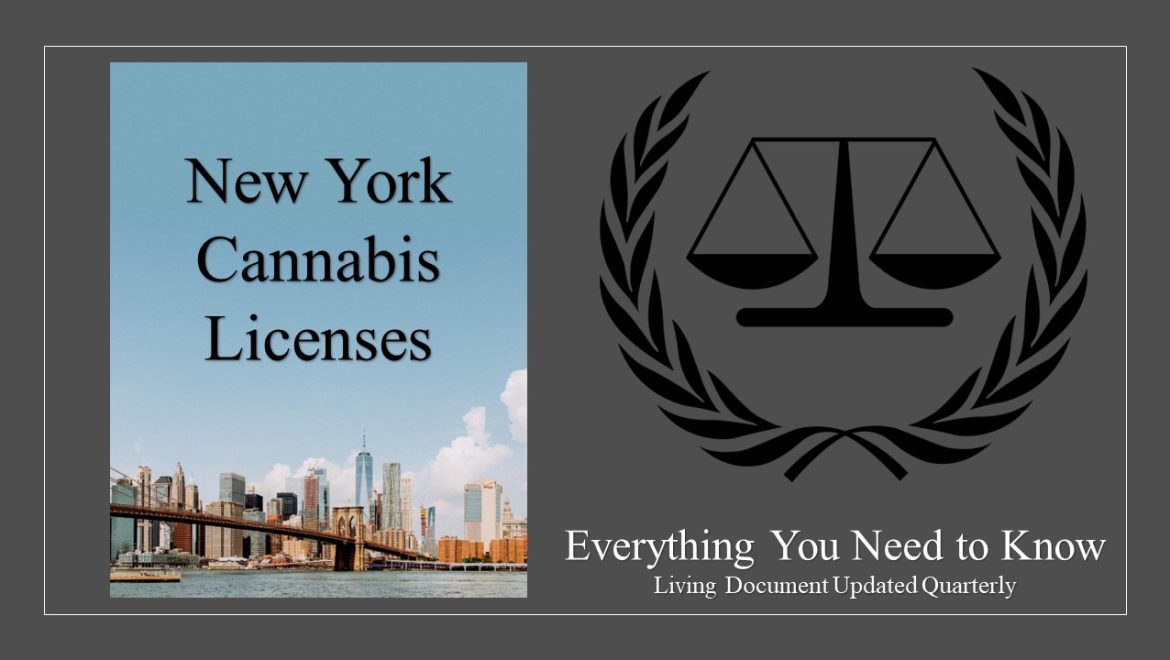 This article exhaustively details all the information that you need to win a cannabis license in New York. Details of the history of cannabis legalization in the state are outlined, including draconian drug laws instituted in 1973, along with information about the previous and current political administration's views on cannabis, and how cannabis legalization progressed in New York. A summation of medical cannabis licenses include the technical details of that application round, general rules regarding medical cannabis and patients, legal battles related to medical licensees, and how medical operators will expand into the adult-use market. Social Equity is a critical component of the cannabis legislation in New York; the equity requirements put forth by the original cannabis act, the Social Equity Cannabis Investment Fund, the 2023 Social and Economic Equity Plan, and the review process for social equity applicant consideration are all discussed in the Social Equity section. Finally, recreational cannabis licenses in New York are described in depth, including details on the brand-new Cannabis Growers Showcase.
_______________________________________________________________________________________________
UPDATE: August 7, 2023: New York Supreme Court Justice Kevin Bryant issued a temporary restraining order blocking the Office of Cannabis Management and Cannabis Control Board from "awarding or further processing any more CAURD licenses and/or conferring operational approval upon any more provisional or existing CAURD licensees pending further order." This was in response to a lawsuit brought by a group of military veterans who argued that a priority licensing program for people impacted by cannabis law enforcement is unconstitutional. The temporary order will be revisited at a hearing on Friday, August 11 at 10:00 AM EST, and could leave hundreds of applicants in the lurch, unable to move forward.   _______________________________________________________________________________________________
History of Cannabis Legalization in New York
1973: New York State passed the Uniform Controlled Substances Act in 1973, following the federal lead to classify cannabis as a Schedule I substance[1], with no currently accepted medical use and a high potential for abuse.
1973: Governor Nelson Rockefeller, previously a proponent of drug rehabilitation through social programs, passed a set of drug laws that introduced the most severe criminal punishments nationwide for certain items, including a minimum of 15 years in prison for possession of four ounces of cannabis[2]. These laws are often collectively referred to as the "Rockefeller Drug Laws."
1977: Governor Hugh Carey repealed sections of the Rockefeller Drug Laws that related to cannabis and passed the Marijuana Reform Act of 1977 with the intent in reducing the number of arrests and criminal prosecutions throughout the state related to cannabis use and possession[3].
2001: The New York Assembly proposed a bill that would legalize medical cannabis, which passed the Senate but was then vetoed by Governor Pataki.
2009: The New York Assembly proposed and passed a bill that would legalize recreational cannabis, but it did not pass the Senate.
2013: State Senator Liz Krueger introduced the Marijuana Regulation and Taxation Act ("MRTA") in December[4]. The legislation would legalize, regulate, and tax marijuana under state law along lines similar to the state's current system regulating alcohol. This Act would have allowed for home cultivation of up to six marijuana plants and empowered the State Liquor Authority to grant licenses for marijuana production, transport, and retail sale, among other measures to regulate marijuana within the state. The Act was referred to the Rules committee and the committee on Health before the session ended; no floor votes were held related to this bill.
Senator Diane Savino introduced the Compassionate Care Act to the senate as S7923. Her co-sponsors included republican Senators William Larkin and George D Maziarz; an identical version of the Act was introduced by Assemblyman Richard N. Gottfried, which was referred to committees and advanced to third reading before the year ended[5].
2014: Governor Cuomo, a previous opponent of any cannabis legalization, signed the Compassionate Care Act into law, legalizing medical cannabis use in the state of New York. The medical cannabis program took an additional 18 months to launch, and offered non-smokable products to patients.
Senator Tom O'Mara and Assemblywoman Donna Lupardo filed identical bills, S07047[6] and A09140[7] respectively, to authorize the growth of industrial hemp[8] as part of an agricultural pilot program. This filing came shortly after the related federal Agricultural Act of 2014[9] passed.
2015: The Industrial Hemp Agricultural Research Pilot Program launched[10], which permitted 10 approved educational institutions to grow and research industrial hemp and was overseen by the state Department of Agriculture. One goal of this program was to legitimize and encourage industrial hemp cultivation in the state.
2017: The Industrial Hemp Pilot Program expanded in 2017, allowing for an unlimited number of authorized sites to grow and research the plant. The expansion also allowed farmers and businesses to join the program. These farmers, unbeknownst to them at the time, have an advantage in recreational cannabis licensing.
Governor Cuomo established industrial hemp as an agricultural commodity under the State's Agricultural and Markets Law. The Governor concurrently announced[11] up to $10 million in grant funding to advance industrial hemp research and economic development opportunities for industrial hemp businesses; $5 million was designated for research, and the other $5 million was set aside for eligible businesses in need of capital for processing industrial hemp or for new construction.
2018: Governor Cuomo ordered the New York Department of Health to conduct a study on the possibility of safely legalizing recreational cannabis within the state; a particular impetus was legalization in the neighboring state of Massachusetts. By July of the same year, the study found that the benefits outweighed the potential negative impacts of legalizing marijuana for recreational use with a well-monitored and executed program[12].
2021: In January of 2021, Governor Cuomo attempted to legalize adult-use cannabis with the inclusion of the Cannabis Regulation and Tax Act ("CRTA") in the state budget proposal. Instead, the New York State Assembly[13] and Senate passed their own bill, which Cuomo immediately signed into law on March 31, 2021. This resulted in previous marijuana-related criminal records in the state of New York being expunged, and created regulatory entities for the licensure of recreational cannabis businesses.
Political Environment for Cannabis Licensees
Previous Administration
Several consecutive Governors in the state of New York have been adamantly against cannabis legalization, which has created a slow start to the industry despite consistent support from the State Assembly. In 2002, the New York Assembly and Senate passed a bill that would have decriminalized marijuana possession and legalized medical use, which was then vetoed by Governor Pataki. He held the gubernatorial office until 2006 and vetoed all similar bills.
The directly subsequent Governors Eliot Spitzer (2007-2008) and David Paterson (2008-2010) both supported medical cannabis but not recreational use, but neither passed corresponding legislation. Governor Andrew Cuomo opposed marijuana legalization for medical or recreational use prior to his inauguration[14], and repeatedly drew the same conclusion that legalization of medical cannabis is not worth the risk; in an interview on April 23, 2013 Governor Cuomo said he does not support medical marijuana legalization[15]. In January of 2014 Governor Cuomo voiced his support for a state-led program that would allow medical marijuana access to 20 approved hospitals in the annual State of the State Address[16]; later that year he signed the Compassionate Care act into law. Seven years later, Governor Cuomo ratified the Senate and Assembly passed MRTA[17] into state law on March 31, 2021.
New York municipalities had the option to opt-out of allowing certain types of cannabis establishments. Local councils had to submit their opt-out request to the Office of Cannabis Management prior to December 31, 2021[18]. More than 50% of New York localities do not permit cannabis retailers or on-site consumption businesses. The official opt-out list is available for download from the OCM website[19]. On the upside, these localities are less populated and represent less than 25% of the state population[20]. No additional municipalities can opt-out, though any areas can choose to opt back in at any time.
Current Administration
Upon the appointment of Governor Hochul in August of 2021, there was not yet infrastructure in place to license recreational cannabis businesses, despite legalization; the Governor announced in March of 2022 the Seeding Opportunity Initiative[21], which allows individuals with prior cannabis-related criminal offenses to make the first adult-use cannabis sales with products grown by New York farmers.
In early 2022 Senator Michelle Hinchey introduced Senate Bill S8084A[22] and Assembly member Crystal D Peoples-Stokes introduced corresponding Assembly Bill A9283[23]. These bills were passed into law in February of 2022 to create a conditional adult-use cultivator license, and a separate conditional adult-use processor license. The conditional cultivator license allows for the cultivation of adult-use cannabis, and until June of 2023 also permits cultivators to minimally process cannabis and distribute their cannabis products. The processor license allows businesses to process cannabis that has been purchased from licensed cultivators, and upon OCM approval may also distribute their own products. Senator Liz Krueger, Senate Majority Leader Andrea Stewart-Cousins, Assembly Majority Leader Crystal Peoples-Stokes, and Assembly Speaker Carl Heastie were all critical supporters in the passing of this cannabis legislation.
The 2023 New York legislature continues to support cannabis reform, and current Governor Kathy Hochul has developed positive working relationships with each of the entities regulating cannabis within the state. The Governor authorized the New York Social Equity Cannabis Investment Fund ("the Fund") in the 2022-23 fiscal budget, which the legislature enacted in the same session. The Fund is a public-private limited partnership that will support social equity cannabis entrepreneurs in New York through the identification and leasing of suitable retail locations and the necessary design and construction to become operational. Licensees must pay an ongoing program fee to the OCM for rent and any loans, though licensees are not liable to repay loans issued from the Fund if they default[24]. The Fund is supported by up to $50 million in licensing fees and revenue from the adult-use cannabis industry and up to $150 million from the private sector that will be raised by the fund manager. In June of 2023, Governor Hochul announced that $150 million was contributed towards the fund from Chicago Atlantic[25].
The NY 2023 budget also included new 280e tax provisions for licensed cannabis businesses. New York Senate Bill S8009C[26] part PP was written to direct specific related changes to the tax code. Disallowed deductions under the federal tax code section 280e will now be permitted in calculating net income and adjusted gross income tax for New York state-licensed cannabis businesses.
The Governor launched an educational campaign this spring focused on safe, informed, and legal purchases of adult-use cannabis[27]. The campaign provides information on licensed dispensaries and explains safe cannabis consumption. Governor Hochul added to the 2024 NYS budget funds for increased inspections and penalties for unlicensed cannabis retailers throughout the state[28].
Cannabis Regulatory Bodies
The MRTA legislation[29] created a new Office of Cannabis Management ("OCM" or "the Office") to comprehensively regulate adult-use, medical, and hemp cannabis. The Office includes five executive leadership members, a Chief Equity Officer, General Counsel, and three senior leadership members. The inaugural and current Executive Director of the OCM is Chris Alexander, appointed by Governor Kathy Hochul in September 2021; he has previously worked as the Government Relations and Policy Manager for a multi-state cannabis company, as an Associate Counsel for the New York State Senate, and Policy Coordinator for the Drug Policy Alliance, he also contributed writing and counsel on drafts of MRTA. Chief of Staff and Senior Policy Director for the OCM is Axel Bernabe; he previously spent six years as Chief Health Counsel to Governor Andrew M. Cuomo, during which he led the expansion of the medical cannabis program, directed the launch of the State's cannabinoid hemp program, and drafted and negotiated MRTA. Additional members of the OCM executive leadership team include Patrick McKeage, Stanley De La Cruz, and Mary Adelaja. Damian Fagon was appointed as the Chief Equity Officer of the Office in June of 2022; he is a 3rd-generation farmer with a background in international development, agriculture and small business, has led development initiatives with castor farmers in Jamaica, rice growers in Sierra Leone, and coffee exporters in Guatemala, and he has launched and advised commercial cannabis operations in South Carolina, New York, and the Caribbean. The senior leadership team includes John Kagia as the Director of Policy for the Office of Cannabis Management, Nicole Quackenbush, Pharm.D. as the Director of Health and Safety, and Amanda Wilson as the Director of Administration.

The OCM is governed by a five-member Cannabis Control Board ("CCB"). The CCB is the approval and oversight body for the OCM. The CCB is responsible for approving the comprehensive regulatory framework for New York's cannabis industry, including issuing applications and licenses to cannabis businesses and approving the rules and regulations which will govern the new industry. Meetings and documents from the CCB can be found on their website[30]. The CCB is chaired by Tremaine S. Wright, a former member of the NYS Assembly who thereafter served as the first Director of the DFS Statewide Office of Financial Inclusion and Empowerment. Additional CCB members include Adam W. Perry, Jessica Garcia, Dr. Jennifer Gilbert Jenkins, and Hope Knight. Hope Knight was nominated by Governor Hochul to the position of President, CEO, and Commissioner of Empire State Development, New York State's economic development agency; she serves concurrently as Commissioner and to the CCB. Linda Baldwin serves as General Counsel to the CCB and to the OCM; she has previously served for over nine years as the General Counsel at the NYS Department of State and as the Director of the SMART Office at the U.S. Department of Justice. Adult-use cannabis business licenses are approved by the CCB and issued by the OCM.
A Cannabis Advisory Board ("CAB") provides guidance and recommendations about cannabis and hemp use and regulation within New York to the OCM and the CCB. The CAB also administers the New York State Community Grants Reinvestment Fund in accordance with Section 99-kk of the State Finance Law.  The CAB has 13 voting members including cannabis farmers and medical doctors, each appointed by the Governor and approved by the NYS Senate and Assembly. Professional subject matter experts from various state agencies regularly provide opinions or reports to the CAB. The board is chaired by Joe Belluck, and vice-chaired by Dr. Junella Chin, M.D.; other voting members of the board include Alejandro Alvarez, Ebro Darden, TheArthur A. Duncan, Allan Gandelman, Garry Johnson, Nikki Kateman, Marc Ramirez, Sarah Ravenhall, Chandra Redfern, Armando Rosado, and Peter Shafer. Meetings and documents from the CAB can be found on their website[31].
New York Medical Cannabis Licenses
Technical Details
The New York Department of Health initially oversaw the New York medical cannabis program. Oversight changed to the OCM upon its creation. The Department began accepting applications for registration as a Registered Organization ("RO") on April 27, 2015 and the window closed on May 29, 2015[32]. All application materials were due by mail to the Department of Health. Each applicant was required to submit two fees with its application: a non-refundable application fee in the amount of $10,000, and a registration fee in the amount of $200,000. The $200,000 registration fee is to be refunded to the applicant only if the applicant is not issued a registration. The Department received 43 applications from businesses interested in becoming ROs to manufacture and dispense medical marijuana under the Compassionate Care Act[33]. The law provides for the initial registration of up to five organizations in New York State and allows the Commissioner to register additional organizations in the future. Each RO may operate up to four dispensing facilities statewide, for an initial total of up to 20 geographically-dispersed dispensing facilities. Within a year, the Department awarded licenses to an additional five businesses from the original group of applicants, bringing the total number of medical dispensaries up to 40. A list of current medical cannabis dispensaries is available on the OCM website[34]
General Rules
Medical cannabis is available for many diagnoses in New York state, including cancer, HIV/AIDS, amyotrophic lateral sclerosis, Parkinson's disease, multiple sclerosis, damage to the nervous tissue of the spinal cord with objective neurological indication of intractable spasticity, epilepsy, inflammatory bowel disease, neuropathies, Huntington's disease, post-traumatic stress disorder, pain that degrades health and functional capability where the use of medical cannabis is an alternative to opioid use, substance use disorder, Alzheimer's, muscular dystrophy, dystonia, rheumatoid arthritis, autism, or any other condition certified by the practitioner. A public list of health practitioners certified in medical cannabis is available from the NY Department of Health[35]. Once a medical practitioner has certified a patient, they can visit a medical dispensary and purchase up to a 60 day supply. No medical card is required for patients in New York. Each certified patient can designate up to five caregivers.
Available medical cannabis products include vaporization pens, capsules, tinctures, oral spray, oral powder, lozenges, pre-measured and pre-ground cannabis flower for vaporization, whole flower cannabis for vaporization, and transdermal patches. Seeds and immature plants for home cultivation are also available for sale to certified patients.
Medical cannabis dispensaries in New York State have pharmacists on-site to help patients find the right product for their conditions, check for interactions with other medications, and show patients how to use each form of cannabis. There are education and training requirements specific to cannabis, created by the Department, for each registered physician. The Compassionate Care Act, which originally legalized medical cannabis in New York, prohibited smoking for medicinal purposes; this restriction has since been removed.
Patients can cultivate cannabis at home for their own medicinal use; one certified caregiver can support this task. All cannabis plants must be secured[36]. One patient can have three mature and three immature plants in their private residence at one time. Restrictions on home cultivation likely apply to individuals in rented or public housing, despite certification as a medical cannabis patient. The OCM has created a medical home cultivation guide for patients[37].
Regulations
All ROs must implement a security system to protect their products, which must include alarm and video surveillance systems that are digitally accessible to the OCM. ROs may only manufacture medical cannabis products in forms approved by the OCM[38]. Any extraction performed must be done by trained personnel in a safe area with proper ventilation. Allowable methods of extraction include mechanical, steam distillation, closed loop CO2 gas extraction, ethanol, or hydrocarbon. Final products must be tested for their cannabinoid profile, as well as for various contaminants and pesticides. The testing of each lot of final medical cannabis product must be conducted with a statistically significant number of samples using acceptable methodologies. ROs are also required to provide a package safety insert to patients. Information in the insert must include any excipients used, an allergen warning, medical contraindications, adverse effect warning, and details of substance abuse. All sales conducted at ROs must be tracked, and can only be made to certified patients or their designated caregiver.
Application Requirements
The application for a RO requires information about the business name, structure, and primary business contact, location of manufacturing, location of cultivation, and each dispensary location, with proposed hours of operation for all of the above[39]. Legal disclosures, financial statements, property blueprints, architectural program[40], a business plan, equipment descriptions, affidavits from each stakeholder[41], organizational charts, a labor peace agreement, proof of internet accessibility, and a timeline to start operations are all necessary. A ten part operating plan is also required with this application; required subsections include manufacturing; transport and distribution; dispensing and sale; devices; security and control; standard operating procedure; quality assurance plans; returns, complaints, adverse events, and recalls; product quality assurance; and, recordkeeping. Each applicant must further define how they will produce sufficient amounts of cannabis for the medical market, create consistent products, and prevent diversion.
Legal Issues
The Department of Health was the original governing body for medical cannabis, and oversaw the program launch in January of 2016. Upon their attempt to expand the amount of medical cannabis operators in the summer of 2016, the five current ROs filed a collective lawsuit against the Department. Their suit argued that the market was too small for additional licensees, that their own operations needed more time to flourish, and that competition so early on would lead to an industry collapse. Three of the five operators, Etain Health, PharmaCann, and Vireo Health, had owners openly state in summer 2016 interviews that their businesses were not yet profitable[42]. Despite these concerns, the Department did move forward with the medical cannabis program expansion, allowing ten medical cannabis businesses in the state.
Later in 2016, two Vireo Health officers[43] were accused[44] of smuggling $500,000 worth[45] of medical cannabis products from their Minnesota based medical cannabis business into New York[46]. Those products were then supposedly sold to medical cannabis patients of New York. After a lengthy legal process[47], the individuals had criminal charges dismissed after completing 80 hours of community service.
The sixth medical cannabis business license was awarded to New York Canna, Inc. However, this license was transferred to a Delaware company, doing business as "NYCANNA, LLC" in 2017 without approval from regulators. This business is now under ownership by Acreage Holdings, a public company in Canada with cannabis operations in multiple US states[48]. A complaint filed in January of 2019 argues that the current ownership structure is illegal, and forced out New York based owners who were actually granted the license[49]. The case is ongoing.
In 2019, multiple allegations of professional misconduct were raised against the CEO of MedMen[50]. The company was asked by the New York Medical Cannabis Industry Association to resign from the organization as a result of the lawsuits, but it still operates multiple medical dispensaries in the state.
A 2023 lawsuit from the recently formed Coalition for Regulated & Safe Access to Cannabis was filed against the OCM[51]. It alleges that the social equity program has now created excessive barriers for a successful adult-use market[52]. The main goal of the lawsuit is to expedite the standard adult-use cannabis licensing process. The Coalition includes several current medical cannabis operators, including Acreage Holdings, Curaleaf, Green Thumb Industries, and PharmaCann, who will all likely apply for standard adult-use licenses as soon as possible[53].
Recreational Expansion
The 10 currently licensed ROs have two options if they choose to enter the adult-use market: a Registered Organization Non-Dispensing ("ROND") license or a Registered Organization with Dispensing ("ROD") license. The ROND license allows current medical licensees to distribute their cultivated and processed products to adult use retailers, and the ROD license allows current medical operators to sell products directly to adult consumers. Any RO that chooses to participate in the adult-use market must provide a plan to prioritize medical cannabis patients as part of their application. ROND and ROD licensees are required to comply with all regulations for adult-use businesses of the same license type. All ROD adult-use dispensaries must be co-located with one of the RO medical dispensaries.
These operators will be the only vertically integrated cannabis businesses in New York, and they may also apply for nursery licenses. Owners and stakeholders of a ROD cannot hold a direct or indirect interest in any other retail dispensary license and cannot operate an on-site consumption facility[54]. Until January 1, 2025, all RODs must dedicate at least 50% of their shelf space to products cultivated and processed by other licensees. This provision will support current conditional cultivator and processor licensees with excess product. After January 2025, this restriction shifts to a minimum of 40% shelf space. Recreational cannabis sales from RODs can begin as early as December 29th, 2023 from their current location, and can add another operational adult-use location after June 29th, 2024[55].
Special licensing fees apply to ROND and ROD licenses; both have a $10,000 application fee[56]. The ROND annual licensing fees are determined based on the scale of activities taking place, and are the same as standard adult-use licensees of the same type and size. ROD licensees will pay not only the standard licensing fees for each type of activity pursued, but an additional $175,000 for cultivation activities, and a one-time fee of $20 million dollars. The first installment of $5 million is due at the time of licensure, with additional installments due either within 180 days of opening a second adult-use dispensary location, or within 30 days of surpassing $100 million in business revenue. The fees are meant to fund the Social and Economic Equity Plan.
New York Cannabis Social Equity
The MRTA[57], which legalized recreational cannabis in New York, has several required provisions designed to promote social equity in the regulated cannabis industry. Specifically, the act automatically expunges past cannabis convictions provided the individual meets certain criteria; and, invests 40% of the adult-use cannabis tax revenue toward rebuilding communities that were disproportionately impacted by previous drug laws. Priority status is given to individuals from Communities Disproportionately Impacted ("CDI") by the enforcement of cannabis prohibition; to provably distressed small farm operators; and, to businesses owned by a minority individual, woman, or service disabled veteran who provides at least 51% of the ongoing contributions and guidance to their business. Extra priority is given to individuals who were convicted of a cannabis-related offense, or had a parent, guardian, child, spouse, or dependent, or was a dependent of an individual who was convicted of a cannabis-related offense in the state of New York prior to March 31, 2021. Extra priority is also given to individuals with an income lower than 80% of the median income of the county in which they reside[58]. An additional mandate of MRTA is that 50% of all adult-use licenses must be awarded to social and economic equity applicants. The Chief Equity Office specifically oversees the social and economic equity initiatives laid out in the law; Damian Fagan was appointed to this role in June of 2022.
Governor Kathy Hochul introduced the Social Equity Cannabis Investment Fund ("the Fund") in January of 2022, which provides qualified individuals with a turn-key retail dispensary in an ideal location. The Fund is a joint private and public venture, and cannabis sales tax revenue will be reinvested for Fund sustainability. In February of 2022, a Conditional Adult-Use Cannabis Cultivation license was announced by the Governor's office[59], which would allow farmers already operating within the New York hemp program to expand their cultivation to include cannabis for the adult-use market while meeting sustainability requirements. All Conditional Adult-Use Cannabis Cultivators must participate in a social equity mentorship program where they provide training in cannabis operations for social and economic equity partners, preparing them for potential roles in the industry; the exact design of this program was decided at a later date, with more detail below.
In March of 2022, the Governor and the OCM announced the initial Seeding Opportunity Initiative[60]. Primary goals of this initiative included the prioritization of local farmers and individuals with prior cannabis-related criminal offenses, job creation, and giving the opportunity for the first licensed cannabis retail sales to communities that were disproportionately impacted by cannabis prohibition. Applications for conditional licenses began in mid-March for cultivators, late June for processors, and in late August for dispensaries; each application window was at least one month long.
With a plethora of positive press[61],[62],[63],[64] about how well the social equity initiatives would be implemented, the results have been lackluster – largely stymied by lawsuits regarding the licensing process, including from Michigan-based company Variscite. Variscite argued via a lawsuit filed in September of 2022 that they should have been selected among the first 150 equity dispensary operators in the Finger Lakes region, and declared the Conditional Adult-Use Retail Dispensary program unconstitutional. The social equity law of New York requires applicants to have a significant presence in New York, of which Variscite has none. A judge limited the number of dispensary licenses that could be issued in certain regions while this particular lawsuit was resolved. In late May of 2023, the CCB voted[65] for the OCM to settle the suit and allow forward movement in the industry; the settlement states that Variscite will automatically receive one of the first non-equity retail licenses issued in their selected jurisdiction and that all related lawsuits will be dismissed. There are additional lawsuits still in play regarding the OCM, but none are likely to have such a significant impact.
The 2023 Social and Economic Equity ("SEE") Plan[66] was created with input from the community and includes several components to support equity applicants. The Office and the CCB identified five pillars of equity[67]: bringing to life an industry that gives small, independent businesses an opportunity to compete; building relationships and trust within the communities most impacted through educational and social programming; investing resources including grants, loans, and technical assistance to equip SEE groups with the support needed to thrive in the New York State cannabis market; educating communities on their rights in accordance with the Cannabis Law and regulations; and collecting data and evolving programming to adapt to the equity needs of the industry. Licenses issued as part of the SEE Plan cannot be sold or transferred within the first three years, except to a similarly qualified equity individual with Board approval.
One aspect of the NY SEE Plan is the creation of a formal incubator program, which will include physical locations for education. Existing incubators[68] are provided by Empire State Development in each of the ten economic development regions of New York[69]. The Office has created methods for social and economic equity individuals to reapply for licensure if they are rejected, after they complete an incubator program.
For cannabis-specific education and training for job seekers, Cornell University and the Workforce Development Institute have developed a partnership, partially funded by the state, that provides cannabis-specific education and training to job seekers titled the New York State Cannabis Workforce Initiative. Furthermore, the New York State Department of Labor Cannabis Employment and Education Development ("CEED") Unit connects people with cannabis industry jobs.
Within the SEE Plan, the Office has developed a Cannabis Compliance Training and Mentorship Program, a 10-week virtual training program available to legacy cultivators, traditional farmers, and a combined cohort of legacy processors and traditional food and beverage processors, with direct support from currently licensed conditional adult-use cultivators and processors. The goal of the program is to expand and diversify the pipeline of cultivators and processors preparing to participate in the New York cannabis market[70].
Direct loan programs from the SEE Plan should be available in 2024, though specific requirements and timeline have yet to be released. An additional opportunity being explored is communal kitchens: authorized spaces where multiple licensed small-batch processors can utilize shared equipment.
The OCM has elaborated that the review process will actively try to identify individuals and businesses who deserve social equity consideration, even if they do not explicitly request for or apply under that term. All non-equity applicants must develop and implement a social responsibility framework designed to contribute to communities disproportionately harmed by cannabis prohibition[71].
New York Recreational Cannabis Licenses
New York has created several methods to obtain a recreational cannabis business license, whether the operator is a cultivator, processor, retailer, or other licensee. These methods include a conditional license, a provisional license, and a traditional recreational business license. The law creates a two-tier marketplace, in which the supply tier includes cultivators, processors, and distributors, and the retail tier includes dispensaries, deliveries, and on-site consumption lounges. Owners from the supply tier, which includes cultivation, processing, and distribution, cannot have an interest in a retail tier license. The tiered system purposefully prohibits vertically integrated operators.
All licensees must use the designated transportation manifest, developed and provided by the OCM, when moving any cannabis or related products between facilities. The manifest requires information about the originating facility, the responsible transporter, destination(s), all products by name, lot number, and weight, and a signature from the receiving party to complete the chain of custody. A downloadable version of the manifest can be found on the OCM website[72]. BioTrack has been selected as the New York seed-to-sale tracking system[73]. All licensees will be required to use BioTrack software for their cannabis inventory and allow the OCM access to their data upon request[74].
*CONDITIONAL
The conditional cannabis license process began with cultivator licensees, then processors, followed by retail dispensaries. Conditional licenses are only available to individuals who meet specific criteria, based on the license type pursued.
Technical Details
Cultivator
Applications for the Adult-Use Conditional Cultivator ("AUCC") were submitted digitally to the CCB between March 15, 2022 and June 30, 2022. The only individuals allowed to apply for the AUCC license were those already authorized by the Department of Agriculture to grow cannabinoid hemp under the Markets Industrial Hemp Research Pilot Program. They must also have at least two years of successful cannabinoid hemp harvests within the last four years, maintain good standing with the Department of Agriculture, and only individuals with more than 51% ownership of the authorized farm can pursue an AUCC license. Each license was issued for two years, expiring in June of 2024, with additional documentation requirements from each operator at six months and one year post licensure. There have been more than 270 AUCC licenses approved by the regulatory bodies to date[75]. All AUCC operators that are in good standing with the OCM may apply and receive a standard Adult-Use Cultivator License, when available.
Processor
Adult-Use Conditional Processors ("AUCP") had an application window of June 28, 2022 – August 31, 2022. Licenses were only available to businesses that were previously authorized to process cannabinoid hemp, and only individuals already authorized and practiced in extraction through the hemp program will be licensed to do so in the adult-use market. AUCP locations must be already approved cannabinoid hemp processing locations. AUCP licensees may request additional locations[76] to designate as distribution locations, intended for storage of cannabis products that are complete, tested, and packaged for distribution. 40 licenses were awarded[77] with a two year validity period[78] or until June 30, 2024, after which point businesses are meant to undergo the traditional processor license application. AUCP licensees who package cannabis products for retail sale must submit an annual sales report, which specifies the total amount of packaging material, by weight, sold, offered for sale, or distributed into the state by the licensee in the prior calendar year; the percentage of all packaging material sold, offered for sale, or distributed for sale in the state; and the total costs of packaging material.
Dispensary
The Office began accepting conditional adult-use retail dispensary ("CAURD") applications in August 2022. These licenses prioritize businesses owned by "justice involved" individuals and up to 25 specific non-profit organizations[79] as "social enterprises." Justice involved people include those who were convicted of a cannabis-related offense[80]; whose parent, spouse, registered domestic partner, child, legal guardian, or dependent was convicted of a cannabis-related offense; or who is the dependent of someone who has been convicted of a cannabis-related offense; if the arrest ultimately led to a conviction for another offense, such as non-drug offense, or lesser offense by means of a plea deal or other mechanism, it is still a qualifying justice involved situation; certain felony convictions within the last 3 years will require specific CCB approval and may result in disqualification; all related offenses must have taken place in the state of New York and prior to March 31, 2021[81]. CAURD applicants must be owned by a justice involved individual who controlled and owned at least 10% of a "qualifying business" for 2 years. Qualified businesses must have been owned by a justice involved individual for at least 2 profitable years, with that same individual holding at least 30% ownership in the proposed dispensary. The dispensary must be majority owned (51%) by justice involved individuals; multiple people can be combined to reach this percentage, though each person must provide documentation related to their equity status. CAURD applicants can have an ownership or significant interest in up to three other CAURD businesses.
Whether applying as a qualified business or as a non-profit, CAURD applicants must have a proven significant presence in the state of New York. Justice involved individuals must prove their place of residency[82] at the time of the related arrest or conviction, and provide proof of the event. Interested social enterprises must have a verifiable history of serving communities disproportionately impacted by cannabis prohibition, have at least one active board member or similar who meets the justice involved criteria, and have proven profits for at least two years of business.
Conditional dispensary applicants will select up to 5 regions in order of preference within New York for their retail location. The regions of New York State include: Brooklyn, Capital Region, Central New York, Finger Lakes, Long Island, Manhattan, Mid-Hudson, Mohawk Valley, North Country, Queens, Southern Tier, Staten Island, The Bronx, and Western New York. Licenses will be allocated among the 14 regions based on commuter-adjusted population[83]​; applications will be scored and ranked based on their preferred location[84] and the top scoring applicants will be awarded a provisional license. CAURD businesses may also provide their own location for the retail dispensary, pending CCB approval. Social enterprise applicants have 6 months after their provisional licensure to secure a location. All CAURD applicants have 60 days after their location is finalized to complete all other necessary business arrangements.
There are multiple stages to the CAURD licensure process, including a provisional license award prior to location finalization. Many qualified business applicants are reliant on the OCM to receive a location and a loan for capital expenses through the Fund, since these are premium retail locations that are ready-to-operate, with banking and point of sale services[85] in operation and capital available for any necessary redesign or construction. Businesses that are provided a location for their dispensary from the OCM are not permitted to change the retail location while they have a conditional license.
Over 900 applications for a CAURD license were received within the application window, and 463 qualified businesses have been provisionally approved. Licenses are valid for two years from the date of issuance, at which point there will be a renewal process. The conditional period of the CAURD license ends four years after it was originally issued, and businesses that are in good standing with the OCM will have the opportunity to transition to a standard adult-use retail license prior to license expiry. On December 29th, 2022, the first CAURD location began public operation. A list of currently licensed adult-use dispensary operators is provided by the OCM[86] and all licensed dispensaries must display a verification QR code to curtail illegal sales.
General Rules
Conditional cultivators and processors agree to support the growth of the cannabis industry within NY state, particularly through social equity mentorship and environmental sustainability; this has come to fruition with the Cannabis Compliance Training and Mentorship Program, which launched in January 2023. Within six months of licensure, all conditional cultivators and processors must enter into a Labor Peace Agreement with a valid labor organization, to protect worker rights and avoid a spontaneous cessation of work through a strike or similar; conditional dispensary applicants must have an executed Labor Peace Agreement prior to final licensure. Conditional cultivators and processors are permitted to sell and otherwise distribute their own products until June 1, 2023, by which point they must acquire an additional distributor license.
AUCP licensees can produce topicals, edibles, single-serve beverages, vaporization cartridges, single-use vaporization pens, concentrates, tinctures, capsules, tablets, or any other product type or form with prior written approval of the Office. In determining whether or not to approve a new cannabis product type, the Office may request written submission by the processor of the proposal, including but not limited to the proposed manufacturing process, methods of administration and other factors to assess risk to public health and safety. No products can ever contain alcohol, tobacco, or nicotine.
Once CAURD licensees are granted a provisional license, they may apply for a temporary delivery only location. These locations are valid for up to one year, and authorized operations can continue from the designated temporary delivery location even after the permanent retail location is approved[87]. Licensees are permitted to receive licensed products from a cannabis distributor, take customer orders online or by phone, and deliver products to customer residences between 8 am and midnight.
Regulations
MRTA[88] was signed into law on March 31, 2021 and legalized adult-use cannabis in New York State. The OCM has developed additional regulations outlining how businesses can participate in the cannabis industry. While regulations are pending formal adoption, the Office has issued guidance documentation for current businesses to comply with.
The guidance for conditional cultivators was originally published in March of 2022, and most recently updated in January of 2023[89]. All AUCC licensees are limited to 1 acre of outdoor cultivation, or 25,000 square feet of indoor greenhouse cultivation, or a mix given that the greenhouse canopy is less than 20,000 square feet and the total flowering canopy is equal to or less than 30,000 square feet. No more than 20 artificial lights are permitted, and the entire premises must be secured. Cultivation can but is not required to take place at the location already licensed for cannabinoid hemp cultivation, and all hemp cultivation materials and operations must be kept distinct from adult-use cannabis. If AUCC owners choose to transition to the standard cultivation program in 2024, they will be granted a cultivation tier that allows for at least the same amount[90] of space as their current operations. Up to four AUCC licensees can share one facility[91], though all products and operations must be clearly distinguishable.
AUCC businesses are allowed to cultivate cannabis and to sell wet or dried cannabis, seeds, clones, and seedlings to other licensed operators[92] after it has passed relevant tests. Each facility must be maintained in a sanitary condition, including all equipment, processing areas, and storage spaces. Minimal processing of cannabis flowers to create pre-rolls was permitted for AUCC operators until June 1, 2023, after which only licensed processors can perform this function.
Within 30 days of licensure each AUCC is required to submit key parts of an Operating Plan for their business, with the full Operating Plan due to the OCM by six months post licensure, and at the end of the first year of licensure they must submit an Annual Cultivation Report to the Office. The Operating Plan at 30 days requires a site plan indicating the activities performed in each area, detailing all physical boundaries, roads, and water crossings of the property, a security and staff safety plan with risk mitigation and accident prevention plans based on a detailed risk assessment of all stages of cannabis production; parts of the plan to be submitted at six months are a cultivation plan with details of all cultivation, processing, storage, and record keeping policies and procedures; a soil preparation plan document with records of analysis, descriptions of soil quality, and a plan to promote healthy soil; an environmental impact plan that details the actions taken to maintain and improve ecosystem health and services with neutral or positive impact on biodiversity; a pest management and control plan document based on Integrated Pest Management ("IPM") principles with details on prevention, observation, and interventional steps, and which consistent physical, mechanical, biological, and chemical methods were utilized; a cannabis sampling, analysis, and testing plan; a quality assurance plan that establishes criteria to detect, identity, prevent, and track harvested cannabis contamination incidents; a cannabis recall plan document that includes an annual mock recall test; a sustainable water-use and conservation document that addresses water sources, quality, and use; and a sustainable energy use and conservation document that addresses the sourcing and use of energy and sets energy efficiency goals including timelines and benchmarks.
The Annual Cultivation Report requires 29 significant sections, including an up-to-date site plan; physical inventory of cannabis, at any stage, and all associated labels, reflected accurately in an electronic inventory management system; detailed plant protection application records for any propagation treatments; documentation of a soil, soil mixture or substrate material assessment; an agricultural input list with product name, active ingredient, purpose, application rate, timing within life cycle of plant and method, Material Safety Data Sheet, Certificate of Analysis, product labels, and history of application; water usage per cultivation cycle; energy audit records; pest and disease monitoring and scouting records; lab results from an approved NY State cannabis testing laboratory for all required testing for cannabis from each production cycle; records of plant removal and destruction of all cannabis not meeting minimum quality, strain, and safety standards; equipment maintenance and upkeep records; records of all employees and independent contractors; staff health and safety procedures; signed consent forms from all employees and independent contractors that apply chemicals as part of their work activities; records of routine cleaning of all containers, tools, and equipment; records of routine cleaning and sanitizing of all areas of the facility where cannabis is produced, handled, or stored; pest management records that include a map of all traps, records of routine trap maintenance, and record of any evidence of animal or insect presence including body parts, hair, or feces in cannabis handling areas; records of an annual mock recall; records of all complaints received along with the defined timeline for each response and name of persons responsible for complaint procedures and actions taken; production water analysis results; post-production water analysis results if there is any water runoff or discharge; waste disposal records including material resulting from the trimming process, as well as composting or other disposal or remediation methods; a visitor log; a signed copy of the labor peace agreement; and an overall indication of compliance with guidance and regulations, and is subject to comment and feedback from the Office. Failure to promptly submit all required documents may result in a revocation of the conditional license.
AUCC licensees must continuously abide by all regular rules promulgated for adult use cultivators in section 68 of the Cannabis Law[93].
Transitions from the conditional cultivation license to a standard adult-use cultivation license, once available, will be determined by a number of factors, including environmental impact. Specifically, the OCM and CCB will evaluate green-house gas emissions reduction, waste reduction efforts, efficient irrigation systems, and renewable power generation. During the standard adult-use licensing period, AUCCs can transition to a tier 1 – tier 4 outdoor cultivation license, tier 1 or 2 of mixed-light or combination cultivations, a cooperative, or a microbusiness[94].
In addition to the labor peace agreement and mentorship program previously mentioned, the guidance for AUCP licensees requires extensive recordkeeping, that each facility be maintained in a sanitary state, and that Good Manufacturing Practices ("GMP") are followed. GMP refers to a quality control system for ensuring that products are consistently produced and controlled in accordance with 21 CFR Parts 111 and 117 by the FDA. For businesses performing extraction, generally only extraction techniques and activities that have been previously approved within the cannabinoid hemp program will be allowed for a given business. Extraction based businesses must maintain proper ventilation, demonstrate control over all ignition sources, record all solvents used with proof of their purity, and only allow trained employees to perform extraction activities. Products that can be produced by an AUCP include topicals, edibles, single serving beverages, vaporization cartridges, vaporization single-use pens, concentrates, tinctures, capsules, tablets, and cannabis flower products such as pre-rolls. No products can exceed more than 10% total terpenes, and detailed records must be maintained of all cannabis or botanically derived terpenes used in products.
All products sold at retail must have warnings on the label, and can never intentionally appeal to kids or anyone under 21. Youthful marketing to avoid includes cartoons, neon colors, silly spellings of words such as "wordzz" or "kandy" for candy, or the inclusion of any characters, games, or toys that commonly appeal to this demographic. A universal cannabis symbol is required on all products; the symbol is pictured here and is available for download on the OCM website.
In March 2022, the CCB issued proposed regulations for the CAURD licensees for public comment. The public comment period closed on May 31, 2022. On July 14, 2022, the Cannabis Control Board approved the final rules and regulations for the CAURD licensing program. These were added to the Official Compilation of Codes, Rules and Regulations of the State of New York as Part 116 under Chapter II of Subtitle B of Title 9[95]. The regulations provide definitions related to the CAURD program; details on the application requirements; details on license eligibility, evaluations, and denials; license renewal and transition information; and information on ownership rules and restrictions. Once a CAURD applicant has an approved location, they must provide notification[96] of their intent to the local council where they plan to operate; this notification has to be made by certified mail, return receipt requested; overnight delivery service with proof of mailing; or through personal presentation of the notice.
CAURD licensees are permitted to purchase tested cannabis products from a licensed distributor for resale into the adult use market. The entire retail facility must be secured, and cannabis may not be accessible to any unauthorized staff or visitors. A complete inventory must be available at all times, and each sale must be tracked in a manner that integrates with the OCM seed-to-sale tracking system. Sales of cannabis can only be made to people over the age of 21, and their identity must be verified. Deliveries of cannabis products are permitted by car, van, bike, scooter[97], or foot, so long as the delivery employee is properly trained and the products are secured for the duration of the trip.
Application Requirements
AUCC
Each conditional cultivation applicant was required to provide a business plan, cultivation plan, and floor plans in addition to ownership information, an organizational chart, financial details, and proof of valid participation in the cannabinoid hemp pilot program. Each submission also required a $2,000 non-refundable fee.
AUCP
Each conditional processor applicant was required to provide[98] proof of licensure to process cannabinoid hemp prior to January 1, 2022, proof of passing a Good Manufacturing Practices audit, basic information about the applicant and the proposed location, a list of which products will be processed, and detail any extraction methods to be undertaken, along with a $2,000 non-refundable submission fee. Additional business documentation including a capitalization table, an organizational chart, details of funding sources, and a description of the proposed business model were also required. For licensees interested in hydrocarbon extraction activities, a document of approval from the local fire marshal or similar authority and proof that the proposed location complies with all applicable building and fire codes was also required. This process was completed primarily in the OCM application portal, with payment due by mail.
CAURD
There are multiple steps to the CAURD application, including the initial application, provisional license award, dispensary location approval, and post-selection application, before the final license is granted.
For the initial application, each business needed to submit proof of their social equity status, with available methods including a certificate of disposition, a record of judgment, a record of plea, verdict, and sentence, a court docket entry that indicate the conviction, an arrest record, a police file, notarized attorney letters, acknowledgement of application to destroy expunged cannabis conviction record, a Governor's commutation letter, results from a criminal history background check, or any other information that can be used by the OCM to verify the related offense. Details about all true parties of interest, individual and business tax documentation, ownership structure, and financial disclosures are also required for the initial application.
The post-selection application requires all of the previous information to be confirmed, and asks for a dispensary site plan; a Department of Tax and Finance Certificate of Authority and Tax clearance forms[99]; documentation for worker's compensation insurance, and disability and paid family leave benefits insurance; a management staff roster and organizational chart for the dispensary; a delivery plan when relevant; a labor peace agreement; ownership deed or signed lease agreement for the approved location; proof of notification to your municipality; a valid certificate of occupancy; vendor contracts for inventory tracking; and a copy of any other pertinent licenses or permits. Applicants must designate an Employee in Charge[100] who is 21 or older; they will be responsible for managing the core day-to-day functions of the dispensary, maintaining an adequate staffing plan, and submitting required reports and notifications to the OCM. Each licensee must maintain a written training manual[101], available to all employees. The training manual must include worker guidelines, specifically security, operating, and safety procedures, regarding daily opening and closing procedures; security, customer admittance, and customer traffic-control procedures; ordering and point of sale procedures; delivery service procedures; product inventory intake procedures; product return and disposal procedures; emergency procedures; an explanation of how workers will monitor for and prevent underage sales; information about all types of cannabis products the dispensary sells including product types, serving sizes, duration of effects, methods of administration, usage warnings, secure storage instructions, proper disposal instructions, customer confidentiality requirements, and alcohol-free, drug-free, and smoke-free workplace policies.
Cannabis Growers Showcase
With legal issues hindering the approval of dispensary licenses, a significant number of licensed AUCCs have excess cannabis products that are set to expire soon. The AUCC business models and cultivation plans were based on projected retail numbers from the OCM, which have not yet been realized. As a momentary solution, the OCM has created a Cannabis Growers Showcase ("CGS") to allow consumers to see and purchase AUCC and AUCP products without a traditional dispensary storefront. CGS is a temporary program set to expire on January 1, 2024 and the last applications will be accepted on December 1, 2023. Applications require information about each participating business, proposed products for sale, a basic site plan, inventory data templates, municipal approval, and contact information for an Employee in Charge, and must be submitted at least 10 days before the planned event (or at least 20 days before the planned event, after September 5th).
The OCM presented the CGS concept at their July 19th meeting, and opened applications the same day. A CGS requires at least one CAURD licensee to host an event for up to 3 AUCCs. At least 1 of the AUCCs must be a new partnership for the CAURD. For every 3 AUCCs, 1 AUCP may also participate, and up to 35% of total CGS sales can be from processed products. CGS events can take place at a variety of locations, although temporary delivery only locations are specifically excluded. A supply tier licensee may not pay for, sponsor, or provide entertainment for the event. CAURD licensees must have final retail authorizations to participate in a CGS, which may include licensees with only temporary delivery operator authorization in certain situations. Events can be recurring, one time, or an event on consecutive days lasting less than two weeks. A public or private event with adult attendees can allow a CGS concurrently in their space. A CGS does not permit any one other than a trained employee of a CAURD business to complete a cannabis sale with a consumer. Sales of food, beverages other than water, tobacco, nicotine, or games are not allowed. On-site cannabis consumption is prohibited at a CGS.
*RECREATIONAL
Technical Details
There are nine types of recreational adult-use cannabis licenses defined in the law including nursery, cultivation, processing, distribution, delivery, retail dispensary, on-site consumption, cooperatives, and microbusiness. All standard applications have a $1,000 non-refundable application fee[102]; fees are reduced by half for equity applicants[103]. Licenses are valid for two years after award[104].
Applications for a new license will only be accepted within the designated application window, which the CCB will announce at least one month in advance[105]. The OCM currently plans to release instructions for the adult-use application in September, and plans to start accepting applications for review in October[106]. All dispensary and on-site consumption licensees are required to notify the municipality where they plan to operate of their intent at least 30 days before submitting an application, although not more than 270 days in advance[107]. The CCB may prioritize applications based on region, license type, equity status, or other criteria.
A specific limit to the number of licenses has not yet been announced. However, the law does authorize the CCB to cap the amount of licenses issued at any point. Additionally, the law dictates that at least 50% of licenses issued must be awarded to equity applicants. As of the July 19th OCM meeting there have been 463 retail licenses issued. This should logically lead to a cap of general adult use recreational dispensary licenses around 400, though this is subject to change and is subject to additional regulatory restrictions. With only 17 operational dispensaries[108], less than 5% of awardees have begun regulated retail sales so far. To keep the balance of active dispensaries within the 50:50 equity ratio, this may further limit the number of recreational adult use licenses initially available this fall.
Nurseries will produce and distribute[109] seedlings, clones, tissue cultures, and cannabis seeds. Nurseries can be outdoor, indoor, or mixed light, though the type of nursery must be specified at the time of application. Indoor and mixed-light nurseries are limited to 10,000 feet[110] of nursery area, and outdoor nurseries can expand up to 100,000 square feet. Nurseries can sell cannabis to other nurseries, or to a cultivator, cooperative, microbusiness, ROND, or ROD; when at-home cultivation is permitted in New York, nurseries will also be allowed to sell to standard retail dispensaries[111]. Nursery licenses can be dually awarded to cultivator, cooperative, microbusiness, ROND, or ROD licensees[112], but never to a standard retail dispensary or an on-site consumption licensee. Biennial license fees for a nursery are $750 for outdoor, $2,000 for indoor, or $1,000 for mixed light.
Cultivation licenses have 5 tiers, each based on canopy square footage. For indoor, outdoor, or mixed light cultivators tier 1 begins with a canopy of less than 5,000 square feet; tier 2 operators can cultivate a canopy up to 12,500 square feet; tier 3 allows a canopy between 12,500 to 25,000 square feet; tier 4 is at least 25,000 square feet but not exceeding 50,000 square feet; tier 5 is the largest and allows between 50,000 and 100,000 square feet of canopy space[113]. Different canopy restrictions are in place for combination cultivators. The tier and type of lighting (indoor, mixed light, outdoor, or a combination of outdoor with mixed light) for the proposed cultivation must be described in the application. Cultivators will purchase their initial cannabis supply from licensed nurseries. Cultivator licensees can obtain a nursery or processor license while continuing their cultivation operations, but cannot be a true party of interest in more than one concurrent cultivation license. License fees increase as the space allowed increases; the outdoor tier 1 license costs $1,000 + $150 per 500 square feet of canopy, and the mixed light tier 5 license costs $70,000 +$1,400 per 500 square feet of canopy.
Businesses operating with a processor license are permitted to extract, blend, and infuse cannabis products. For businesses that are only processing cannabis for white label agreements the biennial license fee is $2,000, unless the business also has a tier 1 or tier 2 cultivation license, in which case the fee is reduced to $500. For processors that intend to infuse and blend products, the biennial license fee is also $2,000. Businesses that plan to perform extractions in addition to infusions and blending have a biennial licensing fee of $7,000.
Microbusiness licensees will be permitted to cultivate cannabis, with canopy space restrictions[114] based on type of light used, distribute cannabis, and to conduct processing activities including extraction[115], blending, and infusion; they may also be permitted to operate a retail point of sale or consumption facility. Annual production limits are in place, unless all cannabis inputs are created by the microbusiness[116]. All planned activities must be described in the application. The biennial licensing fee is $4,500. No person can be a true party of interest for more than one microbusiness.
Cooperative or Collective licenses are also available, where multiple residents of New York create an LLC, collective, or cooperative under NYS Cooperative Corporation Law[117] that operates according to the seven cooperative principles[118] of the International Cooperative Alliance. Adult-use co-ops can cultivate, process, and distribute cannabis to on-site consumption sites, dispensaries, or RODs. All members of the co-op are true parties of interest in the business. No member of the co-op can have a direct or indirect interest in any other adult-use cannabis license in the state of New York, including another co-op.  Each application for an adult-use cooperative must describe the types of activities that will take place, and the number of members in the co-op, since the canopy square footage permitted is based on the number of members[119]. The licensing fee structure is based on the cultivated canopy size and type of light used, though co-ops interested in exclusively processing have a license fee of $5,000 per location. Co-ops and collectives can operate an unlimited number of cultivation or processing premises, as paid for and approved by the CCB.
Distributor licenses are stand alone licenses in the supply tier that allow a business to purchase tested and packaged cannabis products from a licensed processor, microbusiness, co-op, ROD, or ROND, and then sell those products to a licensed adult-use retail dispensary, on-site consumption licensee, or a ROD. Interestingly, a distributor can be a true party of interest in a cultivator, processor, co-op, ROD, or other distributor license, and while they cannot be a true party of interest for any microbusiness, they can be a passive investor for an unlimited number of microbusinesses[120].
Retail licensees are permitted to purchase cannabis and related products from licensed cultivators, processors, RODs, RONDs, distributors, and co-ops, and further permitted to sell these products to adult use cannabis consumers. Sales can take place via a drive-thru service window or a pre-order pick up lane, with OCM approval. Retail dispensaries may also operate a limited retail consumption facility, after CCB approval[121]. Retail dispensaries have a $7,000 annual licensing fee; the addition of a limited retail consumption facility brings the fee to $10,000.
Delivery licenses are part of the retail tier and are only available to businesses that also have a retail license. The delivery license does not allow the sale or purchase of cannabis in and of itself. Deliveries are only intended for use in localities that have refused to allow physical cannabis dispensaries. Deliveries are allowed by motor vehicle, foot, bike, or public transit. A delivery license has a biennial licensing fee of $4,500.
On-site consumption licenses are also available, which allows patrons to consume cannabis via inhalation, vaping, ingestion, application, or other uses. Adult-use cannabis, medical cannabis, and CBD hemp products are all permitted at consumption facilities. Limited retail consumption facility licenses are only available as an add-on license for dispensary licensees or microbusinesses that conduct retail operations. Limited retail consumption facilities do not have a point of sale, and are always located inside of a dispensary where products can be purchased. On-site consumption can also be temporarily approved at a dispensary, ROD, or microbusiness, for a specific event[122], in which case it is referred to as an exception area for consumption. Details about the event are required at the time of application, which should be submitted at least 30 days in advance.
General Rules
Home cultivation of adult-use cannabis is not yet allowed in New York. The OCM is required to issue regulations related to home cultivation of cannabis within 18 months of the first adult-use retail sale. The OCM has stated that when home cultivation is permitted, that adults over the age of 21 can have three mature and three immature plants in their home. Cannabis plants must be kept in a secure place that is  not accessible to any person under 21. No more than six mature plants can be in any house, regardless of how many adults live there. Home cultivated cannabis is only intended for personal use and cannot be sold to anyone. Local municipalities may enact and enforce regulations relating to home cultivation of cannabis provided, although no municipality can completely ban or prohibit home cultivation. For public safety, it will never be permitted to make hash oil or other cannabis concentrates using substances like butane, propane, or alcohol with home grown cannabis.
Cannabis flower and cannabis value-added products are both available to the adult-use market. Allowable cannabis products include topicals, edibles, capsules, beverages, tablets, tinctures, baked goods, gummies, chocolates, vaporization cartridges, single-use vaporization pens, shatters, waxes, resin, and other cannabis concentrates[123]. All products must be thoroughly tested, labeled, and properly packaged prior to sale. All legal cannabis products sold in New York will include the universal cannabis symbol, in the manner strictly prescribed by the OCM[124].
Public and private cannabis events are permitted, and cannabis cultivators, microbusinesses, RODs, and standard retail dispensaries can partake. Any of these licensees can partner and host an event at their licensed premises, with prior authorization from the CCB or the OCM. All event requests must be submitted at least 30 days before the event is scheduled to start[125] with a non-refundable $50 application fee. Upon approval, an additional event fee is due of $100 for a one day event, plus $50 for each subsequent day. If a large event is planned, the OCM may create additional proportional fee schedules.
The owners, true parties of interest, passive investors, and any management service providers of a supply tier business cannot have any interest in a license of a retail tier business, and vice versa; all licensees must disclose all related individuals and entities and notify the Office of any changes therein. Applicants with an interest in such a business, no matter how small that interest is, will not be approved. No one person or entity can hold true interest in more than one cultivator license, and only a passive investor can hold true interest in more than one processor license. No more than three retail dispensary licenses may be awarded per person.
True parties of interest[126] include[127] the applicant or licensee's sole proprietor, partner (whether limited or general), member, manager, president, vice president, secretary, treasurer, officer, board member, trustee, director, or any person with an equivalent title to each of the foregoing; a stockholder of the applicant or licensee, other than a person owning 5% or less in the aggregate of a publicly traded company; each person that makes up the ownership structure of each level of ownership for an applicant or licensee that has a multilevel ownership structure; any person with a right to receive some or all of the revenue, gross profit, or net profit from the licensed entity during any full or partial calendar or fiscal year; any person with a financial interest in the applicant or licensee; each person that has authority to or exercises control over the applicant or licensee, with control defined[128] as the authority to order or direct the management, operation, managers, or policies of the business; any person that has membership rights in the applicant or licensee in accordance with the provisions of any articles of incorporation, bylaws, limited liability corporation agreements, partnership agreements or operating agreement; and any person that assumes responsibility for the debts of the applicant or licensee. Goods and services providers are not considered true parties of interest[129].
Regulations
Several parts of the adult-use cannabis regulations of New York are still under review by the OCM, after the final public comment period closed on July 31st at midnight. Regulations relating to medical cannabis licenses[130], conditional licenses[131], packaging and labeling[132], and laboratories[133], have already been finalized. All conditional licensees must comply with any new adult-use regulations.
No retail dispensary, microbusiness, or RODs are allowed to operate within a 1,000 foot radius of one another prior to December of 2023; in towns with a population of less than 20,000 people this restriction is 2,000 feet[134]. Distance restrictions also require dispensaries to be located at least 200 feet away from churches and 500 feet away or more from schools and public youth facilities. No on-site consumption lounges can be within 500 feet of three or more other on-site consumption lounges. Distances are measured in a straight line from the center of the entrances of each building (i.e. two consumption lounges; or, a dispensary and a church) that are closest to one another; if there is no building, the nearest property line[135] may be used instead. Retail dispensaries cannot operate between 2:00 am – 8:00 am[136]. On-site consumption lounges cannot operate between 4:00 am – 8:00 am[137].
Application Requirements
All owners and true parties of interest must be identified[138] for each application, regardless of license type. Significant financial details are required, in addition to personal information[139] such as place of residency, employment, and previous conviction history[140]. Of course, all information presented in an application should be presented honestly[141] and with full disclosures.
The proposed premises[142] should be described in the application, along with the related municipal approval. Required details include the street name and number, GPS coordinates, architectural drawings, floor plans, proof of ability to obtain sufficient insurance, and whether the property is owned by the applicant or not. Additional details could include perimeter security, entrances and exits, canopy area, and a description of activities in each area. All nursery applicants must have a Nursery Grower Certificate of Registration from the NYS Department of Agriculture[143] before licensure by the CCB. All processors must maintain a Good Manufacturing Practice certification[144]. Finding a location that is properly zoned[145] with local approval[146] can be extremely difficult for cannabis businesses. A provisional license may be awarded to applicants that meet all requirements for licensure other than a finalized location[147],[148]. This license gives applicants one year to find a suitable property and submit it for final approval to the CCB. No cannabis related activities are allowed during this time.
Specific instructions for the adult-use license application should be available to the public in September. All applicants must submit an Energy and Environmental Plan[149], which details water usage, air quality, and sustainable packaging plans of the business. Additional materials that are likely to be required include a recall plan; odor control and mitigation plans based on the size and function of each proposed facility; an employee handbook and training manual that describes each role and the responsibilities therein, and that educates employees on internal policies and procedures including emergency safety procedures; security and surveillance plans; a diversion prevention plan; quality control and quality assurance plans; employee training plans; and recordkeeping plans. Cultivation licensees will likely have additional documentation requirements related to proposed lighting and soil plans.
If an application does not meet all regulatory requirements, the OCM may reject the application for cure[150],[151]. In this case, applicants can reapply as soon as the specific deficiency is rectified.
Tips for Winning a Cannabis License in New York
Read All Relevant Regulations, Statutes, and Ordinances
Here at Cannabis Consultants Group, we are elated when new or proposed regulations are released, and we immediately dive in and study their intent. Not everyone feels a similar excitement in this undertaking, but understanding the regulations that you are obligated to follow as a cannabis business operator is a vital first step. For an extremely comprehensive guide that will work in any state, click here for 10 Steps to Win a Cannabis Business License
MRTA is 128 pages[152] and has a very broad view of the cannabis program, including explanations of the governing entities. MRTA created the Cannabis Law. The Cannabis Law has an additional 139 sections that describe the CCB, social equity, and the actions authorized for licensed medical cannabis, adult-use cannabis, and CBD hemp operators. Interestingly, the title of MRTA refers to "marihuana" but the regulatory language throughout almost exclusively uses the term "cannabis".
The current proposed regulations from the CCB regarding adult-use cannabis contain 344 pages of content with more than 25 pages of definitions. There are an additional 36 pages specific to packaging and labeling requirements, and 62 pages related to laboratories and required testing. Questions can be asked of the OCM by emailing info@ocm.ny.gov.
Many municipalities have additional regulations specific to cannabis operations, which should be read and understood. An official downloadable list of localities that have decided to prohibit cannabis businesses can be found on the OCM local government website[153]. The City of Ithaca has created a cannabis specific page, and provides answers to frequently asked questions[154],[155]. The City of Binghamton has a cannabis business zoning map[156] available on their website, which includes zoning specifically for on-site consumption facilities; legal recreational cannabis sales have already begun in Binghamton[157].
Attend All Regulatory Body Meetings
The CCB and CAB each have meetings that are open to the public and broadcast online. The most recent CCB meeting was on July 19th, 2023. Future meeting announcements, links to watch meetings live, and past meeting minutes and agendas are all available online[158]. The most recent CAB meeting was on June 13th, 2023; details are available online[159].
Local areas or cities may also have relevant meetings about cannabis regulations. For instance, the City of Albany has its own Cannabis Advisory Committee[160], which holds meetings, conducts surveys[161], and has a public texting service for comments related to regulations.
Assemble a Team
A key component of any cannabis business application is proving the applicant's ability and capacity[162] to successfully conduct operations[163]. While entrepreneurs often want to wear all of the hats at once, the OCM is looking for businesses that will create local job opportunities within equitable workplace environments[164]. A robust team can bring new ideas and perspectives to the table, help to identify and mitigate risks, increase business efficiency, and enhance the customer experience. Attorneys, consultants, executive officers, an employee in charge, and other essential personnel should all be considered as additions to your team prior to application submission.
Attorneys and consultants can help you to understand the laws that apply to your business, draft contracts and other legal documents, and may introduce you to potential partners, investors, or vendors from their network. Common executive teams in the cannabis industry include a Chief Executive Officer to guide the overall direction of the business; a Chief Financial Officer for financial management, accounting system set up, and tax filing; a Chief Compliance Officer to monitor and interpret legal and regulatory changes, and conduct compliance audits of documentation and regular operations; and a Chief Operations Officer responsible for the day-to-day operations of the company, including manufacturing, sales, marketing, and supervision of managerial staff. While additional roles can be added to the c-suite, hiring four distinct individuals specifically suited for each of these positions will create a solid business foundation.
A required role for all cannabis retail dispensaries in New York is an Employee in Charge. The Employee in Charge is considered a managerial position within each dispensary, and the individual must be over 21 years of age. They are responsible for the proper conduct of the employees of the retail dispensary; immediate supervision and management of the retail dispensary during hours of operation; opening and closing of the facility; turning away any individuals from entering the dispensary who present a risk; inventory and delivery acceptance; maintenance of files subject to audit or inspection by the Office; employee training and compliance with state and local laws and regulations; maintaining an up-to-date retail dispensary staffing plan; notifying the Office of the termination of an employee for diversion of cannabis product or theft of currency; notifying the Office of any change of information required to be reported to the Office; and any other activity determined by the Office.
With a significant focus on product and premises security and safety, hiring a Security Director or negotiating a conditional contract with a licensed security team prior to application is very common. Additional positions to consider filling are license specific, such as a Cultivation Director to choose cultivars, define a planting and harvest schedule, and create IPM solutions; or a Processing Director, to oversee the creation of new formulas, quality control, and Good Manufacturing Practices. A Diversity and Inclusion Director, Community Engagement Manager, or similar role will likely be viewed positively by the OCM, given their overall emphasis on social equity.
To help you get started with team building efforts, the following is a list of key New York cannabis industry stakeholders, experts, and authorities, with direct links to their respective LinkedIn profiles:
Tremaine Wright – Chairperson of the New York State Cannabis Control Board
Chris Alexander – Executive Director of New York State Office of Cannabis Management
Aaron Ghitelman – New York State Office of Cannabis Management
Jason Salmon – New York State Office of Cannabis Management
Damian Fagon – Chief Equity Officer at New York State Office of Cannabis Management
Tahlil McGough – Deputy Director of Legislative Affairs at New York State Office of Cannabis Management
Jessica (Haller) Dell'anno – Assistant Counsel at New York State Office of Cannabis Management
Frank Manganella – Cannabis Industry Corporate Finance & Investments NY, NY
Hunter Friedland – Committee Chair – Processing and Manufacturing, New York Cannabis Growers & Processors Association
David Feder – New York Cannabis Attorney
Jeffrey Hoffman – New York Cannabis Attorney
Brad Racino – Editor & Publisher at New York Cannabis Insider
Peter Su – New York Cannabis Banking and Finance Expert
Debra Borchardt – Co-Founder, Executive Editor at Green Market Report
Conclusion
The most recent proposed regulations are now under review by the OCM, and assuming that there are no substantial changes from the most recent public comment period, these regulations can be finalized in early September, with application details available shortly thereafter. If applications are staggered by license type, cultivators will likely be first, but the OCM has indicated that the October application will be open to cultivator, processor, distributor, microbusiness, and retail licensing applications. Application windows for conditional cultivators was 60 days, and 30 days for conditional retailers; a similar timeframe is expected for standard license applications, though the OCM could choose another timeframe or to accept applications on a rolling basis. Review of applications could take one to three months, and there may be additional time for the curing of deficient applications. Official license awards for standard licensees could happen in early 2024. Application preparation should start now if you want to win. The process is complex – contact Cannabis Consultants Group for a consultation.
________________________________________________________________________________________________
REFERENCES AND CITATIONS:
Feature photo of New York by Jeffrey Czum, Pexels at https://www.pexels.com/photo/concrete-bridge-2760856/
[1] 21 U.S.C. § 812(c).
[2] NPR. February 2013. Drug Laws that Changed How We Punish. https://www.npr.org/2013/02/14/171822608/the-drug-laws-that-changed-how-we-punish
[3] The New York Times. June 1977. Carey Signs Marijuana Measure Reducing Possession Penalty. https://www.nytimes.com/1977/06/30/archives/carey-signs-marijuana-measure-reducing-penalty-for-possession-carey.html
[4] Senator Krueger. December 2013. Senator Introduces Bill to Regulate and Tax Marijuana. https://www.lizkrueger.com/liz-introduces-bill-to-regulate-and-tax-marijuana-in-new-york-state/
[5] NYS Assembly Bill A6357E. https://www.nysenate.gov/legislation/bills/2013/2013-a6357e
[6] NYS Senate Bill S07047. https://assembly.state.ny.us/leg/?default_fld=&bn=S07047&term=2013&Summary=Y&Text=Y
[7] NYS Assembly Bill A09140. https://nyassembly.gov/leg/?default_fld=&leg_video=&bn=A09140&term=2013&Summary=Y&Text=Y
[8] USDA Fact Page of the Agricultural Act of 2014. https://www.ers.usda.gov/agricultural-act-of-2014-highlights-and-implications/#:~:text=The%202014%20Farm%20Act%20makes,bioenergy%2C%20rural%20development%2C%20and%20beginning
[9] The Agricultural Act. https://www.govinfo.gov/content/pkg/BILLS-113hr2642enr/pdf/BILLS-113hr2642enr.pdf
[10] Empire State Development. Industrial Hemp Research Initiative. https://esd.ny.gov/industrial-hemp
[11] Cornell University. July 2017. Governor Cuomo Signs Legislation and Announcnes New Initiatives to Support Growth of Industrial Hemp Industry in NYS in Visit to Cornell. https://hemp.cals.cornell.edu/2017/07/12/governor-cuomo-signs-legislation-and-announces-new-initiatives-to-support-growth-of-industrial-hemp-industry-in-new-york-state-in-visit-to-cornell
[12] NYS Department of Health. July 2018. Assessment of the Potential Impact of Regulated Marijuana in New York State. https://cannabis.ny.gov/system/files/documents/2021/09/marijuana_legalization_impact_assessment_7-13-18.pdf
[13] NYS Assembly. March 2021. Press Release: Assembly to Pass the Marijuana Regulation and Taxation Act to Legalize Adult Use of Marijuana in New York State. https://nyassembly.gov/Press/?sec=story&story=96303.
[14] NY Daily News. Andrew Cuomo Medical Marijuana. https://www.nydailynews.com/new-york/won-new-york-pot-governor-hopeful-andrew-cuomo-medical-marijuana-article-1.188416.
[15] The Capitol Pressroom with Susan Arbetter.
[16] 2014 State of the State Address by Governor Cuomo. Coverage provided by WIVBTV. https://www.youtube.com/watch?v=srMkobz5akw&ab_channel=WIVBTV.
[17] NY Office of Cannabis Management. Webpage for Marihuana Regulation and Taxation Act. https://cannabis.ny.gov/marihuana-regulation-and-taxation-act-mrta.
[18] NY OCM. Local Governments. https://cannabis.ny.gov/local-government.
[19] OCM. Local Governments Page. https://cannabis.ny.gov/local-government
[20] NYS Social Economic and Equity Plan. Page 19. https://cannabis.ny.gov/system/files/documents/2023/05/nys-see-plan.pdf.
[21] Office of the Governor. March 2022. https://www.governor.ny.gov/news/governor-hochul-announces-office-cannabis-management-seeding-opportunity-initiative.
[22] Senate Bill S8084A. https://www.nysenate.gov/legislation/bills/2021/S8084
[23] Assembly Bill A928. https://www.nysenate.gov/legislation/bills/2021/A9283
[24] CAURD FAQ. Question 51. https://cannabis.ny.gov/system/files/documents/2022/09/caurd-faq-9.12.22_0.pdf
[25] Office of the Governor. June 2023. Governor Announces $150 million Investment in the Cannabis Social Equity Investment Fund. https://www.governor.ny.gov/news/governor-hochul-announces-150-million-investment-cannabis-social-equity-investment-fund
[26] Senate Bill S8009C. https://www.nysenate.gov/legislation/bills/2021/S8009
[27] Office of the Governor. April 2023. Governor Unveils New Statewide Cannabis Public Education Campaign. https://www.governor.ny.gov/news/governor-hochul-unveils-new-statewide-cannabis-public-education-campaign
[28] Office of the Governor. May 2023. Governor Signs Legislation to Curb the Illicit Cannabis Market in New York State as Part of the FY 2024 Budget. https://www.governor.ny.gov/news/governor-hochul-signs-legislation-curb-illicit-cannabis-market-new-york-state-part-fy-2024
[29] MRTA. https://legislation.nysenate.gov/pdf/bills/2021/S854A
[30] CCB Meetings. https://cannabis.ny.gov/cannabis-control-board-meetings
[31] CAB Meetings. https://cannabis.ny.gov/cannabis-advisory-board-meetings
[32] Medical Marijuana Program Instructions for Application. https://cannabis.ny.gov/system/files/documents/2022/04/app_instructions.pdf
[33] Medical Marijuana Program Applications. https://cannabis.ny.gov/medical-marijuana-program-applications
[34] Medical Dispensing Facilities. https://cannabis.ny.gov/dispensing-facilities
[35] NY Department of Health. Public List of Consenting Medical Cannabis Program Practitioners. https://www.health.ny.gov/regulations/medical_marijuana_practitioner_list/
[36] Medical Home Grow Flyer. https://cannabis.ny.gov/system/files/documents/2022/09/medical-home-grow.pdf
[37] OCM. Medical Home Grow Guide. https://cannabis.ny.gov/system/files/documents/2022/10/medical-home-cultivation-guide-.pdf
[38] NYCRR 9 § 113.11(f)(1-6).
[39] NY Medical Marijuana Program Application. https://cannabis.ny.gov/system/files/documents/2023/01/mmp-application-for-registration-as-a-registered-organization.pdf
[40] Appendix B of the NY Medical Marijuana Program Application. https://cannabis.ny.gov/system/files/documents/2023/01/mmp-application-for-registration-as-a-registered-organization-appendix-b.pdf
[41] Appendix A of the NY Medical Marijuana Program Application. https://cannabis.ny.gov/system/files/documents/2023/01/mmp-application-for-registration-as-a-registered-organization-appendix-a.pdf
[42] Times Union. August 2016. Bumpy Start for New York Medical Marijuana. https://www.timesunion.com/tuplus-local/article/Bumpy-start-for-New-York-medical-marijuana-9128231.php
[43] State of Minnesota 10th Judicial District vs Laura Lynn Bultman. https://www.politico.com/states/f/?id=0000015a-152f-deae-a75f-572f08ff0000
[44] WNBF Radio. June 2016. Vireo Health Accused of Smuggling. https://wnbf.com/vireo-health-accused-of-smuggling/
[45] MJ Biz Daily. June 2016. $500K of Medical Marijuana Oil Missing in Minnesota. https://mjbizdaily.com/500k-of-medical-marijuana-oil-missing-in-minnesota/
[46] Leafly. May 2018. Interstate Smuggling? How the Vireo Incident Is Testing State Cannabis Laws. https://www.leafly.com/news/industry/interstate-smuggling-how-the-vireo-incident-is-testing-state-cannabis-laws
[47] Cannabis Business Times. May 2019. Medical Marijuana Smuggling Charges Against Ex-Vireo Health Officers Upheld. https://www.cannabisbusinesstimes.com/news/vireo-health-medical-marijuana-smuggling-case/
[48] Wikipedia. Acreage Holdings. https://en.wikipedia.org/wiki/Acreage_Holdings
[49] EPMMNY LLC vs NYCANNA LLC. https://casetext.com/case/epmmny-llc-v-nycanna-llc
[50] MJ Biz Daily. February 2019. After String of Successes, Multistate Cannabis Firm Medmen Forced to Confront Adversity. https://mjbizdaily.com/after-string-of-successes-multistate-cannabis-firm-medmen-forced-to-confront-adversity/
[51] Supreme Court of the State of New York Country of Albany. Coalition for Access to Regulated and Safe Cannabis versus NY CCB. https://www.courthousenews.com/wp-content/uploads/2023/03/cannabis-coalition-nys-control-board-complaint-albany-supreme-new-york.pdf
[52] Green Market Report. June 2023. NY Marijuana Coalition Demands 'Course Correction' from Governor. https://www.greenmarketreport.com/new-york-marijuana-coalition-demands-course-correction-from-governor/
[53] NY Cannabis Insider. March 2023. NYS Cannabis Regulators Sued Again This Time By The Big Players. https://www.syracuse.com/marijuana/2023/03/exclusive-nys-cannabis-regulators-sued-again-this-time-by-the-big-players.html
[54] NY Cannabis Law § 68-A(2).
[55] NYCRR 9 § 123.18(b)(12)(i-ii).
[56] NYCRR 9 § 120.4(a)(10-11).
[57] MRTA. https://legislation.nysenate.gov/pdf/bills/2021/S854A
[58] OCM Social Equity Law Fact Sheet. https://cannabis.ny.gov/system/files/documents/2022/02/cannabis-management-fact-sheet-social-equity_0_0.pdf
[59] Office of the Governor. February 2022. Governor Signs Conditional Cannabis Cultivation Bill. https://www.governor.ny.gov/news/governor-hochul-signs-conditional-cannabis-cultivation-bill
[60] Office of the Governor. February 2022. Governor Announces OCM Seeding Opportunity Initiative. https://www.governor.ny.gov/news/governor-hochul-announces-office-cannabis-management-seeding-opportunity-initiative
[61] MJ Biz Daily. April 2021. Is NY the New Gold Standard  of Social Equity? https://mjbizdaily.com/new-yorks-marijuana-social-equity-program-a-possible-game-changer/
[62] Bloomberg Law. April 2021. NY Cannabis Law Prioritizes Social, Economic Equity. https://news.bloomberglaw.com/cannabis/new-york-cannabis-law-prioritizes-social-economic-equity
[63] Cannabis Industry Journal. March 2022. The Great Social Experiment: Social Equity in New York. https://cannabisindustryjournal.com/feature_article/the-great-social-experiment-social-equity-in-new-york/
[64] The New York Times. March 2021. NY Legalizes Recreational Cannabis, Tying Move to Racial Equity. https://www.nytimes.com/2021/03/31/nyregion/cuomo-ny-legal-weed.html
[65] CCB May 30, 2023 Meeting Minutes. https://cannabis.ny.gov/system/files/documents/2023/06/ccb-meeting-minutes-5.30.23-.pdf
[66] NY OCM 2023 Social Economic and Equity Plan. https://cannabis.ny.gov/system/files/documents/2023/05/nys-see-plan.pdf
[67] Id. Page 11.
[68] REDC. May 2023. Round XIII of the Initiative Launches. https://regionalcouncils.ny.gov/
[69] Regional Economic Development Councils. 2023. About REDC. https://regionalcouncils.ny.gov/about
[70] SEE Plan, pg. 32.
[71] OCM Social Equity Fact Sheet. February 2022. https://cannabis.ny.gov/system/files/documents/2022/02/cannabis-management-fact-sheet-social-equity_0_0.pdf
[72] Adult-use Cannabis Transportation Manifest. https://cannabis.ny.gov/system/files/documents/2022/11/au-cannabis-transportation-manifest.pdf
[73] OCM 2022 Annual Report. Page 9. https://cannabis.ny.gov/system/files/documents/2023/01/ocm-annual-report-2022.pdf
[74] BioTrack. New York Seed to Sale Traceability Knowledge Center. https://biotrack.com/legislation/new-york/
[75] AUCC licensees. https://cannabis.ny.gov/system/files/documents/2023/06/aucc-licenses.pdf
[76] OCM. Additional Location Request Form. https://cannabis.ny.gov/system/files/documents/2022/12/aucp-location-form-12.22.22.pdf
[77] AUCP licensees. https://cannabis.ny.gov/system/files/documents/2023/01/list-of-aucp-licenses-1.23.2023.pdf
[78] AUCP FAQ. Pg. 9, Q. 24. https://cannabis.ny.gov/system/files/documents/2022/09/conditional-adult-use-processor-faqs_0.pdf
[79] CAURD Non-profit FAQ. https://cannabis.ny.gov/system/files/documents/2022/09/caurd-nonprofit-faq-9.12.22_0.pdf
[80] Cannabis Law. Section 137.
[81] NYCRR 9 § 116.4(a)(2)(i).
[82] OCM. August 2022. How to Obtain Proof of Address at Time of Arrest or Conviction for a CAURD Application. https://cannabis.ny.gov/system/files/documents/2022/08/how-to-get-proof-of-address-at-time-of-conviction-8.18.pdf
[83] Marijuana Moment. August 2022. Here's How Many Marijuana Shops New York Plans To Approve In Each Region Of The State In The First Licensing Round. https://www.marijuanamoment.net/heres-how-many-marijuana-shops-new-york-plans-to-approve-in-each-region-of-the-state-in-the-first-licensing-round/
[84] CAURD FAQ. September 2022. Q. 47. https://cannabis.ny.gov/system/files/documents/2022/09/caurd-faq-9.12.22_0.pdf
[85] CAURD Location Matching FAQ. https://cannabis.ny.gov/system/files/documents/2023/07/caurd-location-faq-7.19.2023.pdf
[86] Adult-use Dispensary Location Verification Tool. https://cannabis.ny.gov/dispensary-location-verification
[87] CAURD Delivery Guidance. July 2023. Q 3. https://cannabis.ny.gov/system/files/documents/2023/07/caurd-delivery-guidance.pdf
[88] MRTA. January 2021. https://legislation.nysenate.gov/pdf/bills/2021/S854A
[89] OCM. Guidance for AUCC. https://cannabis.ny.gov/system/files/documents/2023/01/adult-use-conditional-cultivator-guidance.pdf
[90] NYCRR 9 § 120.3(f)(1)(i).
[91] AUCC FAQ. Pg 13. https://cannabis.ny.gov/system/files/documents/2022/09/aucc-faq.pdf
[92] Cannabis Law. Section 68-c(1).
[93] OCM. March 2022. Terms and Conditions of the AUCC license. https://cannabis.ny.gov/system/files/documents/2022/03/terms_and_conditions_adult-use_conditional_cultivator_license_031422.pdf
[94] NYCRR 9 § 120.3(f)(1)(i-vi).
[95] OCM. July 2022. NYCRR 9 § 116, et. all. https://cannabis.ny.gov/system/files/documents/2022/07/part-116-caurd-regulations_0.pdf
[96] OCM. Notification to Municipalities Background and Instructions. https://cannabis.ny.gov/notification-municipalities-adult-use-retail-dispensary-or-site-consumption-license
[97] CAURD Delivery Guidance. https://cannabis.ny.gov/system/files/documents/2023/07/caurd-delivery-guidance.pdf
[98] AUCP Application walkthrough. https://cannabis.ny.gov/system/files/documents/2022/06/aucp-application-walkthrough.pdf
[99] NYS Department of Tax and Finance Clearance Form. https://cannabis.ny.gov/system/files/documents/2022/08/ocm-06002-new-york-state-department-of-tax-and-finance-clearance-form-locked-2.pdf
[100] OCM. February 2023. Adult-use Retail Dispensary Guidance. Section 3. https://cannabis.ny.gov/system/files/documents/2023/02/guidance-for-adult-use-retail-dispensaries-2.1.pdf
[101] Id. Section 4.
[102] NYCRR 9 § 120.4(a).
[103] NYCRR 9 § 120.4(c)(1).
[104] NYCRR 9 § 120.10(a).
[105] NYCRR 9 § 120.1(b).
[106] OCM. Cannabis Control Board Meeting Slides from July 19th. https://cannabis.ny.gov/system/files/documents/2023/07/cannabis-control-board-07.19.23.pdf
[107] NYCRR 9 § 119.3(b).
[108] OCM. Dispensary Location Verification Tool. https://cannabis.ny.gov/dispensary-location-verification
[109] NYCRR 9 § 123.1.
[110] NYCRR 9 § 120.3(a)(2).
[111] NYCRR 9 § 123.9(b).
[112] NYCRR 9 § 123.1(d).
[113] NYCRR 9 § 120.3(b)(2)(i-v).
[114] NYCRR 9 § 120.3(c)(1)(i-iv).
[115] NYCRR 9 § 120.3(c)(2)(i).
[116] NYCRR 9 § 123.12(a)(6).
[117] NYCRR 9 § 123.13(g)
[118] NY Cannabis Law § 70(2)(a-e).
[119] Tables at NYCRR 9 §120.3(e)(3).
[120] NYCRR 9 § 123.7(g).
[121] NYCRR 9 § 125.
[122] NYCRR 9 § 120.19(a).
[123] NYCRR 9 § 123.6(d).
[124] OCM Packaging and Labeling and Marketing Guidance for Adult-use Licensees. https://cannabis.ny.gov/system/files/documents/2023/03/packaginglabeling-and-marketingadvertising-guidance.pdf
[125] NYCRR 9 § 120.19(f).
[126]  NYCRR 9 § 118.1(w)(1).
[127] OCM. August 2022. AUCC and AUCP True Parties of Interest Guidance and FAQ. https://cannabis.ny.gov/system/files/documents/2022/08/aucc-and-aucp-true-party-of-interest-faq-8.17.pdf
[128]  NYCRR 9 § 118.1(a)(23).
[129] NYCRR 9 § 124.
[130] OCM. Medical Cannabis Regulations. NYCRR 9 § 113.
[131] OCM. Conditional Cannabis License Regulations. NYCRR 9 § 116.
[132] OCM. Packaging and Labeling Regulations. NYCRR 9 § 128 – 129.
[133] OCM. Laboratory Testing Regulations. NYCRR 9 § 130.
[134] NYCRR 9 § 119.4(a)(2).
[135] NYCRR 9 § 119.4(f)(6).
[136] NYCRR 9 § 119.2(a)(1)(i); NYCRR 9 § 119.2(a)(2)(i).
[137] NYCRR 9 § 119.2(a)(3)(i); NYCRR 9 § 119.2(a)(4)(i).
[138] NYCRR 9 § 120.2(a)
[139] NYCRR 9 § 120.2(a)(2)(i-xxi).
[140] NYCRR 9 § 120.2(a)(3)(ii)(a-f); NYCRR 9 § 120.2(a)(3)(iii)(a-e).
[141] NYCRR 9 § 120.1(g).
[142] NYCRR 9 § 120.2(a)(4).
[143] NYS Department of Agriculture. Licensing and Plant Inspections. https://agriculture.ny.gov/plant-industry/licensing-and-plant-inspections
[144] NYCRR 9 § 123.6(a)(3).
[145] New York Upstate Magazine. June 2023. Zoning in Brookhaven Styming Cannabis Retail Prospects. https://www.newyorkupstate.com/cannabis-insider/2023/06/virtually-nothing-available-zoning-in-brookhaven-stymying-cannabis-retail-prospects.html
[146] QNS Queens News. July 2023. Community Board 5 Split Over Proposed Cannabis Dispensary. https://qns.com/2023/07/community-board-5-split-over-recommendation-to-resist-proposed-middle-village-cannabis-dispensary/
[147] NYCRR 9 § 118.1(a)(86).
[148] NYCRR 9 § 120.2(b)(1).
[149] NYCRR 9 § 125.2(c)(1)(i-v).
[150] NYCRR 9 § 120.13(a).
[151] NYCRR 9 § 120.20.
[152] MRTA. https://legislation.nysenate.gov/pdf/bills/2021/S854A
[153] OCM. Local Governments Page. https://cannabis.ny.gov/local-government
[154] City of Ithaca. Cannabis Information and General Knowledge. http://cityofithaca.org/761/Cannabis
[155] City of Ithaca. Cannabis FAQ. http://cityofithaca.org/Faq.aspx?TID=51
[156] City of Binghamton. Cannabis Zoning Map. https://www.binghamton-ny.gov/government/departments/planning-zoning-historic-preservation-department/cannabis-zoning
[157] City of Binghamton. Mayor Announces First Retail Cannabis Location. https://www.binghamton-ny.gov/Home/Components/News/News/279/15
[158] OCM. CCB Meetings. https://cannabis.ny.gov/cannabis-control-board-meetings.
[159] OCM. CAB Meetings. https://cannabis.ny.gov/cannabis-advisory-board-meetings
[160] City of Albany. Marijuana Legalization Information. https://www.albanyny.gov/2095/Marijuana-Legalization
[161] City of Albany. Cannabis Advisory Committee 2023 Report. https://www.albanyny.gov/DocumentCenter/View/8488/2023-Final-Report-of-the-City-of-Albany-Cannabis-Advisory-Committee-5152023?bidId=
[162] NYCRR 9 § 120.7(b)(8).
[163] NYCRR 9 § 120.9(b)(1-4).
[164] NYCRR 9 § 120.7(b)(5).
A highly skilled data scientist and cannabis finance specialist, Jackie's experience has roots in the legal cannabis environment of Oregon, where she worked with cannabis product formulations, and was an original proponent of Proposition 502 in Washington state, which legalized recreational cannabis. As an industry-based CPA, Jackie is extremely well-versed in cannabis finance, and works with complex financial models and budgeting for all types of cannabis businesses. Jackie is also an astute legal researcher and master of data compilation and analysis, as well as possessing significant editing, proofreading, and compliance management skills.