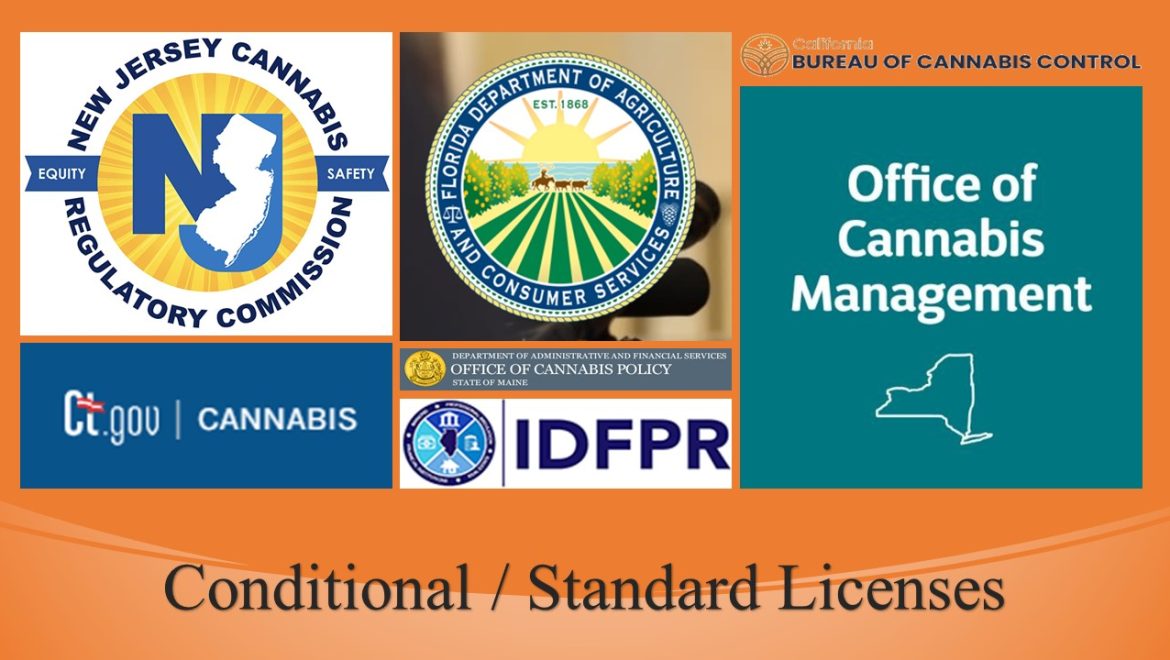 Understanding the requirements of Conditional and Standard / Annual cannabis business licenses can mean the difference between failure and establishing a successful and compliant cannabis business. However, the legal and other burdens of regulatory demands in the cannabis industry can make it a challenge to know which type of cannabis license to apply for, and how to win that license. This article will help you determine whether you should apply for a Conditional or Standard / Annual cannabis business license.
Annual or Standard Cannabis Business Licenses
In most cannabis-friendly states, the annual or standard business license expects businesses to be fully compliant at the time of application. This means that the applicant must already have a complete team, a facility, equipment built out and ready to operate, and proper financing. If you intend to submit an annual cannabis license, your business should be nearly operational.
However, it's important to note that applicants that win a Conditional license will also have to apply for a Standard or Annual license within a specified timeframe.
Conditional Cannabis Business Licenses
To operate in the cannabis industry, most states offer a range of licenses including cultivator, manufacturer or processor, wholesaler, distributor, retail, analytical laboratory, safe transporter, and delivery. Each license comes with its own set of regulatory requirements, and the licensing process varies from state to state, as does the type of license required. In general, the purpose of Conditional cannabis business licenses is to provide fewer barriers to entry for vulnerable, displaced, underprivileged, or minority applicants. For instance, in New Jersey, a Conditional license application does not require the applicant to have a facility, nor does it require financing to be secured. Upon award of the Conditional license, applicants then have time – three to four months – to secure a facility and municipal approval, and lockdown financing for the project. Applicants must then apply for a Standard or Annual license before the Conditional license period expires.
Conditional cannabis business license requirements vary significantly from state to state. Here, we provide an overview of Conditional cannabis license requirement in the states where those business licenses are available and actively accepting license applications:
NEW YORK
In early 2022, Governor Hochul signed an amendment to New York State cannabis law, which permits the Office of Cannabis Management (OCM) to solicit two forms of Conditional cannabis licenses: Conditional Adult-Use Retail Dispensary Licenses, and Conditional Adult-Use Cultivator Licenses.
This move is part of the state's "Seeding Opportunities Initiative," which aims to "position individuals with prior cannabis-related criminal offenses to make the first adult use cannabis sales with products grown by New York farmers," according to a press release from the Governor's office. The state's goal is to launch adult use sales by end of 2022.
To qualify for an Adult-Use Conditional Cultivator License in New York, applicants must be current license-holders for the cultivation and/or processing of industrial hemp in the state of New York, and have produced two crops in the last four years.
Those who qualify for a Conditional Cultivator license will be permitted to grow outdoors or in a greenhouse for the following two years, and to distribute cannabis flower products without a need for additional or new licenses until June 1, 2023. Successful applicants are expected to participate in mentoring and environmental sustainability programs.
NEW JERSEY
In New Jersey, new cannabis businesses are facing a severely competitive market for retail and industrial real estate, forcing them to search aggressively for suitable sites and pay premiums to secure them. To offset these market forces, New Jersey's Cannabis Regulatory Commission includes Conditional licensing in the application process, an interim status that gives businesses 120 days to find a site, secure municipal approval, and apply for conversion to a standard or Annual license.
Conditional licenses are open to everyone, however, social equity, low-income, and disabled veteran applicants are afforded priority application review. When applying for a Conditional license, applicants must provide a proposed business address, although it's not necessary to have control of the site.
Applicants must provide a criminal background check, business plan, regulatory compliance plan, and a plan to obtain liability insurance. The Conditional license is a provisional license and upon award, applicants then have 120 days to meet the full annual license requirements. A conditional license holder may apply for a 45-day extension of the license, and the Commission may grant the extension on a case-by-case basis. As of late June, 2022, the CRC was automatically granting the extension, without applicants needing or asking for it.
MAINE
In Maine, Conditional cannabis licenses serve as a protective measure, which gives the state's Office of Cannabis Policy (OCP) time to vet prospective licensees. Getting a cannabis business license in Maine involves three steps:
Conditional license

Local authorization

Active license
To acquire a Conditional license, applicants must first submit a criminal background check and fingerprints to the relevant office, and obtain an OCP-issued identification card. The OCP responds to applications within 90 days, and the conditional license is valid for one year only, during which time the applicant is expected to secure local or municipal approval
CITY OF ALBUQUERQUE
In the city of Albuquerque, all cannabis businesses where cannabis products are sold directly to consumers are required to obtain a Cannabis Retail Location Approval from the City's Planning Department.
State law authorizes the City to regulate the time, place, and manner of cannabis sales. The City's Integrated Development Ordinance (IDO) provides that a cannabis retail establishment shall not be located within 300 feet of a school or child day care facility or within 600 feet of another cannabis retail establishment.
However, the IDO does allow a cannabis retail establishment to seek a Conditional Use Approval to be located within 600 feet of another cannabis retail location. A cannabis retail location licensed by the State as a micro-business can locate within 600 feet of another cannabis retail location.
Properly completed applications must comply with the City's zoning regulations, separation requirements, and other applicable rules and ordinances.
ILLINOIS
The Illinois Department of Financial and Professional Regulation (IDFPR) is charged with overseeing the licensing process in the state, as laid out by the Cannabis Regulation and Tax Act.
A range of licenses is available including Early Approval Adult-Use Dispensing Organization or Early Approval Adult-Use Cultivation Center as well as Conditional Adult-Use Dispensing Organization or Conditional Adult-Use Cultivation Center.
However, Conditional Cannabis licenses do not grant the applicant permission to cultivate, manufacture, distribute or sell cannabis product. They do grant applicants time to satisfy regulatory requirements for an Annual License, similar to New Jersey.
To convert a Conditional license to an Annual adult use license, Conditional licensees have 180 days to select a physical location, update principal officer forms, complete the Request for Inspection Form, submit floor plans, obtain zoning forms, pay applicable fees, and secure escrow.
VERMONT
In the state of Vermont, the Cannabis Control Board (CCB) may choose, at its discretion, to accept provisional license applications for the purposes of smoothing the application process for applicants as well as assisting the CCB in anticipating the structure of the market. Like Illinois's Conditional License, this provisional license does not grant the applicant the right to trade as a cannabis business. Provisional licenses shall remain valid for 365 days from the date of issuance and may be rescinded if the CCB discovers that information provided in the application is not truthful or accurate. Vermont gives priority to social equity applicants.
CALIFORNIA
California operates a different system. Here, Conditional Use Permits (CUPs) apply to zoning constraints inside the district where a business is located, and fall under the jurisdiction of the City whose responsibility it is to maintain urban sustainability standards and local property value. CUPs allow the applicant to ask for permission to use the business site in ways that may be outside the zoning for a given district. Zoning is a complex issue and in-depth local knowledge is required to demonstrate how the cannabis business will benefit the local community.
To receive a CUP, the project must be compatible with local land use or prove future compatibility as well as demonstrate adequate access, public services, environmental impact and mitigation measures.
SEEK ADVICE
Due to the novelty and complexity of the cannabis market, interested applicants are advised to engage a team of professional cannabis consultants and attorneys to plan for the application process, whether applying for a Conditional or standard Annual Cannabis Business license to ensure compliance and a winning application. Careful planning and comprehensive understanding of statutes, regulations, and ordinances is required to win a cannabis license. For further information or advice on which licenses are available in your state and how to win one for your business, contact us today for a free, no-obligation consultation.
Russ Hudson is an international cannabis consultant specializing in licensing and compliance. He is also the author of The Big Book of Terps – the world's largest scientific textbook on terpenes, flavonoids, and synergy in cannabis. Russ has dedicated more than 30 years to cannabis, working with the private social clubs of Spain, the coffeeshops and suppliers of the Netherlands, and cannabis, hemp, and CBD producers in Germany, Switzerland, Portugal, and other EU countries, while also specializing as a cannabis licensing, compliance, and regulatory affairs expert in more than a dozen US states. Russ has been arrested and jailed for cultivation and trafficking, he has been the subject of a Vice documentary, he has written a children's book about cannabis, and he currently researches and collaborates with the world's leading cannabinoid, terpene, and flavonoid scientists.